I hardly sewed at all this week. I was  busy cleaning off the cutting table. There were the remants of 4 or 5 quilts piled up there plus a few quilts to be quilted. No room to work.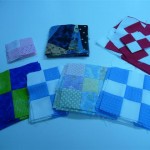 Sorry but this picture appears blue to me. But this is what I did all week. Cut up leftover pieces and make 4 and 9 patches out of them. I also cut up the leftovers from my tote bag and made some 4.5″ squares. I think I'm going to make a small zippered bag to match the large Kwik tote bag. I now have way too many strips and squares so I better  start on some kind of scrappy quilt.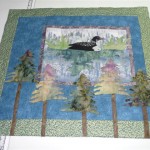 This belongs to a lady I taught quilting to at the community center a few years back. She asked me to quilt it for her. She brought it over on Friday and said that there was no hurry and gave me the leftover pieces and pattern.  I had the quilting done on Friday night and started making my own wall hanging. I just had to use my own border fabrics. So………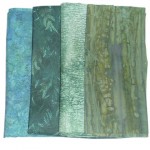 Off to the quilt store on Saturday to get some coordinating fabrics. None in my stash . And do I get just what I need?  But NO!!!!! I have to buy a meter of each and a quarter meter for some of the applique. But batiks are so nice. I also like the Fusion fabric in the one I quilted but the store I went to didn't have that colour  and I didn't feel like shopping around. Impatient.
So here's this week's stash report.  Shouldn't the net fabric used be getting bigger not smaller?
 Fabric Added This Week: 3.47 yds
Fabric Added Year To Date: 30.67 yds
 Fabric Used This Week: .66 yds
Fabric Used Year To Date: 45.23 yds
Net Fabric Busted: 14.56 yds
Hey I still used more overall than I bought. So that's okay. Right?
 Mary-Kay
2 Responses to "Stash Busting Week #11"
Brenda Says:
March 15th, 2009 at 5:58 pm

Hi Mary-Kay!! In answer to your question about my guild blks, you choose your own fabrics, so, it's the blks that I am not wanting to do right now!! I will want to do them later, they are just not important right now. I have other things I want to do!!
I am not sure what way the stash report should go… if you are going to do the fabrics you have bought into something soon, it really doesn't count does it?? And it was nice to get the left over fabric (did you count it?? lol!!) and the pattern. I think it's a nice wall hanging picture you have there – so having one of your own will be nice.
Bust that stash!! But make sure you have fun while you do it!!!

Brett Colman (the hubby) Says:
March 16th, 2009 at 1:06 pm

So, you did buy more fabric this weekend. Busted!

Still love you, Brettski!
Leave a Reply