Daylight saving time! What exactly does it mean and who cares? I still get up in the dark only now it's an hour earlier. In the summer, it'll still be dark. And it takes a week to get used to the earlier time. What is the right time anyway?
Okay enough of that. On to the stash report. More fabric added again this week. But it's for the music quilt that I have to start one day. But I have so  many projects on the go that it's hard to start something new and there is no space to work in. My sewing room is a mess! I worked all week on the surprise baby quilt and it's now on it's way to Calgary  and I sure hope they like it. Grandpa thought it was beautiful.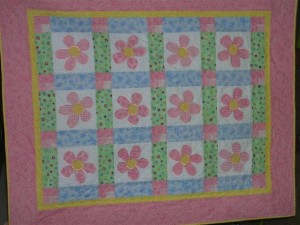 I have made this quilt 2 times and it's a quick and easy quilt to  make.  I really like the results. Both times I made it, I ran out of the pink thread that I used to satin-stitch around the flowers. You'd think I would remember after the first time. Guaranteed I'll remember the 3rd time. I bought some extra large spools of the pink thread so next time I won't run out.
Okat here are my numbers for the week.
Fabric Added this Week: 2 yds
Fabric Added Year To Date: 27.2 yds
Fabric Used This Week: 2.53 yds
Fabric Used Year To Date: 44.57 yds
Net Fabric Busted: 17.37 yds
 Now on to some sewing on this rainy Sunday. I hope it stops raining on Monday because I hate to deliver mail in the rain.
Mary-Kay
2 Responses to "Stash Busting Report Week #10"
Brenda Says:
March 8th, 2009 at 2:45 pm

Hey, you could have sent it to me and I would have forwared it on!! lol! It's a great quilt, I like it!! Easy?? It does not look easy – do-able? yes! Easy…. okay, I'll take your word for it!! but I like it!! Great report!!

Vicki Says:
March 8th, 2009 at 3:34 pm

I agree about daylight savings time, grr. I hate it. I think your quilt is very cute. I am not so handy with the applique.
Leave a Reply