I don't know if I showed a picture of the parrot quilt .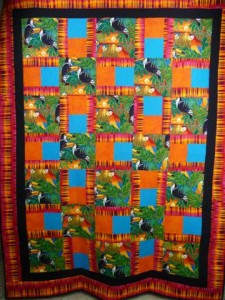 This is it. I quilted all around the parrots and the leaves. I'm very happy with the way it turned out. The person it is intended for likes anything to do with the south. Whenever I see him, he always has on a Hawaiian print shirt. I haven't heard if he likes it or even if he has it yet. I guess I had better find out. As soon as I am done this post I am going to call my sister and find out.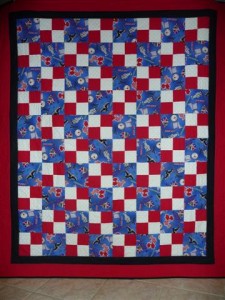 This quilt is intended for one of my brothers who is ill. He is a Montreal Canadien fan or he was when we were kids. I quilted "Montreal Canadiens are the greatest hockey team in the world" around the border and various names of players from the 60's that I thought were notable. One time when we were kids, my parents were making a reel-to-reel tape of us kids reading or saying things and that is what my brother said. I still remember it to this day. I hope he does too.
Well that's all for now.
Mary-Kay
One Response to "A Few Finishes"
Karen Andersen Miller Says:
March 12th, 2009 at 11:07 pm

Mary Kay, it was great meeting you today at Michael's. You seem like a real great gal. It was like you've been my neighbor for years. Your sewing is fantastic! I'm a newbie that only started in August of 2008. I sure hope you'll join us this sunday for "Sewing Goddess Sundays." I look forward to seeing you and your handy work again. You son also seemed like a great kid. Like I said you guys were happy and friendly a nice change in these parts. Hope to see ya. Cheers, Karen
Leave a Reply