June 2nd, 2019 - MIA
It's been a while since I have posted. Life!
I have many irons in many fires right now. My stash has taken a hit! Lots of fabrics purchased and the best of all, lots of fabric received.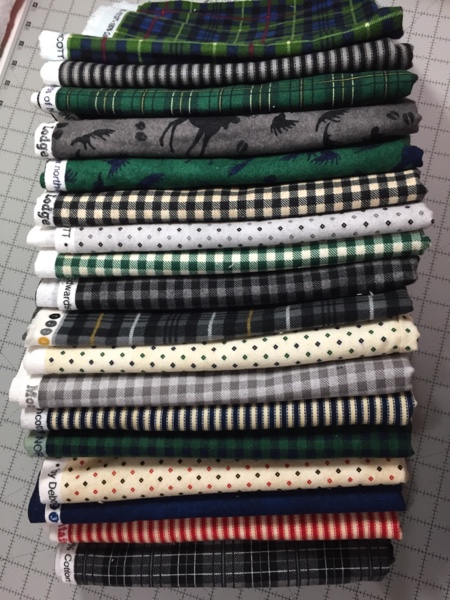 I wrote an email to Northcott for some man-themed fabric for comfort quilts and they sent me this pile of flannel. Mountain Lodge fabric line and it is beautiful! I decided to cut them up into 10″ squares and make them up in to this quilt top. I managed to get 4 quilt tops with some leftover strips for borders or binding.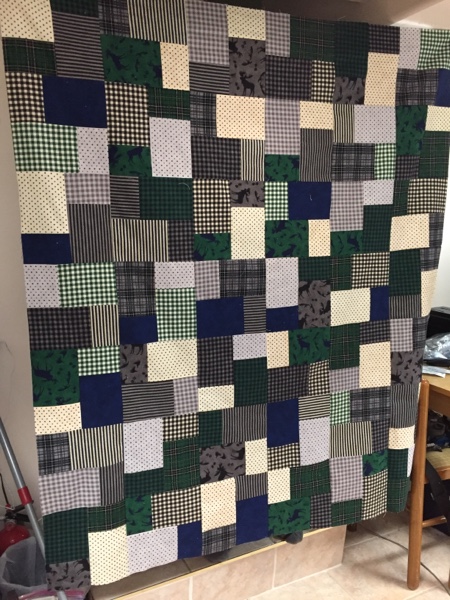 It needs a couple of borders. I bought some Northcott black flannel for the first border and then I will use some leftover strips for the outer border. Then I bought some wide-back Northcott flannel for backing. Quilt them up and The Quilters Three will have 4 guy comfort quilts to donate. Beautiful fabrics and super cozy!
I also have 2 commissioned quilts to make. One is a remake of a BOM from the local quilt shop or something along the same line in similar colours. I can't find the pattern so I used blocks from the Block Tool book and it looks great. Just need to get it quilted and that's another finish.
The second commissioned quilt is a tumbling block pattern. Not the easy one either. I'm not into y-seams so I found a pattern on Etsy that is strip pieced. Well, I made a sample block and the corners don't meet up. So I had to make the strips 1/4″ bigger and appears to work out. I emailed the pattern company and I am waiting to here back from them.
Now for some numbers
Fabric used this week: 9.08 yds
Fabric used YTD: 66.97 yds
Fabric added this week: 67.7 yds
Fabric added YTD: 93.5 yds
Net fabric busted: –26.53 yds
I think once I get all these half-finished projects logged in, I will be in the good. In my fabric added, I did include the donation fabric from Northcott, 16.6 yards of it. A big thank you to Northcott!
As for the 15 Minutes to Stitch, it's hard to make yourself sew every single day. After babysitting the grand kids, I can't seem to stitch anything. They tire me out. Mentally! And summer is coming. I will have to be on my game to keep up with them. But I'm not complaining, soon they will both be in school full-time and I will miss them a lot.
In the past weeks, I have managed to stitch on average, 19.5 hours per week. Not bad for missing a couple of days each week. I love marathon sewing days. I feel like I get so much accomplished. Today, I'm off to my friend's house to babysit her cat and do some marathon longarm quilting.
I'm linking up with Donna at quiltpaintcreate for the stash report and with Kate at Life in Pieces for the 15 Minutes to Stitch challenge.
That's it. Have a great week!
And I leave you with a little project I made for this sweetie pie. It took me hours to sew those 3 ruffles on.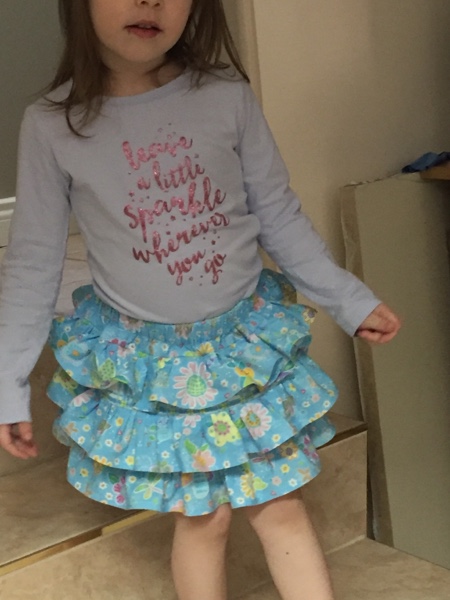 5 Responses to "MIA"
Leave a Reply