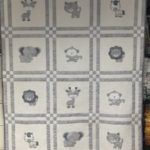 The Stash which never seems to get any smaller even though I do sew.  No fabric was purchased to make this cute Safari Friends baby quilt. This picture looks blurry but I think it's just the grey and the white that makes it look that way. Anyway, I had to learn how to do machine embroidery applique which was super easy in the end. And now that I made and sold this quilt, I'm going to make another one for a niece. Hopefully all from the stash as I have loads of grey and white fabric.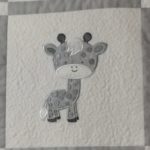 Isn't this the cutest giraffe ever! There were 22 thread changes in this design. First time I did all 22 but the second one I used a light coloured thread to do all the tacking down of fabric and then only changed the thread to do the satin stitching. Much quicker.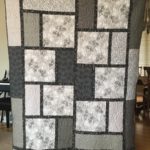 I just finished this quilt in three days. All that's needed is a label. Started on Thursday evening and had the binding on last night. It's maybe the fastest quilt I ever made.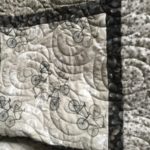 A little close up of the quilting. The pantograph is Hot Cocoa by Urban Elementz. It's my favourite go-to pantograph for comfort quilts. I just love the motion in it and it's quick and easy to quilt.
Now for some numbers.
Fabric used this week: 9.61 yds
Fabric used YTD: 123.24 yds
Fabric added this week: 0 yds
Fabric added YTD: 139.31 yds
Net fabric busted: -16.07 yds
I'm slowly getting out of the hole. I cannot buy any more fabric this year. That's my story and I really am trying to stick to it.
On the 15 Minutes to sew challenge, I have not sewn every day. The first week of July, I only sewed for 2 hours. But last week, I sewed for 27 hours. The only day I missed sewing was Wednesday. I was tired from having the munchkins for 2 days. I managed to sew on Tuesday with them here. There was a lot of stopping to tend to them but I sewed for 4 hours in total.
I'm linking up with Kate at Life in Pieces for the 15 Minutes to sew and with Donna at quiltpaintcreate for the stash report.
Have a wonderful week!
4 Responses to "The Stash"
Leave a Reply