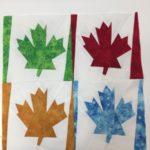 Happy Canada Day to all! You will be seeing a lot of this block this summer. It's my block for the 2018 Canadian Summer Quilt Along. Check out the quilt along here. Week 4 starts soon.
I've been good in the stash department and a little bit lazy in the sewing department. It's just a little too hot here in Southwestern Ontario to do anything. That's my excuse and I'm sticking to it.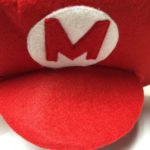 I have a custom quilt to finish and I hope to be done tomorrow. But I did make this last week. My grandson is going in to grade one and I was trying to think of something I could get him or make to mark the occasion. He's in to Super Mario and I had the bright idea to make him a hat. YouTube here I come! Very easy to make and the whole time the video was on, Mario music is playing in the background. You can't help but smile as you are making it. I made the child's size but it was too small so I had to make the adult sized one. I think he loved it.
Here's my numbers
Fabric used this week: 9.08 yds
Fabric used YTD: 113.63 yds
Fabric added this week: 0 yds but I was tempted by a closing sale
Fabric added YTD: 139.31 yds
Net fabric busted: -25.68 yds
On the 15 Minutes to Sew front, I managed to sew for 16 hours a week. I think that's pretty good seeing as I feel like I haven't even been sewing at all.
I'm linking up with Kate at Life in Pieces for 15 Minutes to Sew and Donna at quiltpaintcreate for the stash report. Have a great week and be safe!
4 Responses to "Happy Canada Day"
Leave a Reply