So much for trying to use up my stash. I was looking for a particular grey and guess what? I don't have any. So the shop hop was going on in my area and I went on it.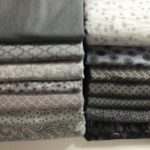 Many yards and yards of fabric later, I found the perfect fabric.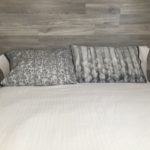 It's a gradiated fabric,  Sound in the Woods, by Robert Kaufman. I just love it! First I made some pillowcases and they look great against the wall in my room.  Well, then I had to design a quilt that would showcase the colour differences in the fabric. Hmmm…. time to fire up EQ7 again.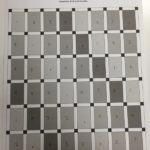 Nice and easy pattern, just the right size for my bed. I'm really just learning how to use EQ7 and while it's not all the hard, it's not all that easy either. Lots to remember.
Needless to say, the stash took a hit. Too bad that I found this fabric at the last store on the shop hop. Here are my numbers.
Fabric used this year: 96.38 yds
Fabric added this year: 133.89 yds
Net fabric busted: -37.51 yds
So, I still have to cut out the quilt and I did get backing for it also. Maybe this week I will get some major sewing done. I never seem to have time to do what I want. Sounds like I'm whining but I'm not. Just a busy life.
But I did get to sew a bit this week. My friend was gone and I used her long arm to quilt a few quilts. Three of my own and one for my sister. No pics, next post. I did manage to sew for 19 hours this past week.  That incudes long arm time too.
I'm linking up to quiltpaintcreate for the stash report and Life In Pieces for 15 Minutes to Sew.
Have a great day!
3 Responses to "The Stash"
Sunday Stash June 3, 2018 | quiltpaintcreate Says:
June 4th, 2018 at 7:23 pm

[…] No fabric in or money spent this week. I'm counting out the fabric for the surface design round robin. I haven't seen it since November. Whoever has it stopped coming to the group and likely forgot about it. If it comes back later I'll adjust it back in. Changes at work have me working longer hours, which greatly reduced my sewing time. Maybe I'll do better this week. Fabric In: 5.25 yards Fabric Out: 9.25 yards Net Fabric Used: 4 yards Quilt & embroidery spending: $110 How did you do this week? 1 Melissa G 2 maggie f 3 Chrisknits 4 Patricia 5 MartiDIY 6 Quilting Gail 7 Aileen K 8 Angie in SoCal 9 Mary-Kay […]

Donna Says:
June 4th, 2018 at 7:25 pm

Lucky you finding what you wanted. Sounds like you'll use it soon.

Kate Says:
June 5th, 2018 at 10:04 pm

It always seems to be the last shop that you find what you want for some reason. Must be one of those universal laws of quilting. Hope you can fit in more stitching time this week. Sometimes life just has other ideas.
Leave a Reply