Here's what I learned about making a Jelly Roll Quilt.
#1 Make sure you sew all the fabric with right sides up. Apparently I sewed one strip right side up on one end and the wrong side up on the other end.
#2 When using only 20 fabrics, with 2 strips of each colour, change up the order of the second set of strips.
#3 Before sewing the first long, long seam, make sure your strips are not twisted at all. Boy when I got to the last couple of strips, I couldn't even sew them together because it was a so twisted. I had to cut the end to finish sewing.
#4 Have fun pressing when it's all done. I should have pressed half way through just to make it more manageable. But then again, it might have been too long for the ironing board.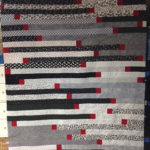 Here's the body of the quilt. All it needs now is a couple of borders and it's a done deal. Well plus the quilting part of it.
Leave a Reply