November 17th, 2013 - The Stash!
I know it's been a while since I blogged about anything but life got in the way of quilting and blogging. Not that I blog that much. Anyway, only 20 more days of work and then I'm retired. I am so excited and time seems to be just dragging. I have tons to do once I have all that free time. My friend tells me that once you're retired, everyone thinks you have lots of free time and they try to give you jobs to do. No thanks, I have plenty to keep me occupied.
Meanwhile on the quilting front, I have actually completed a few things and of course, added a whack of fabric. Mostly to complete quilts in the making or in my head and lots of backing.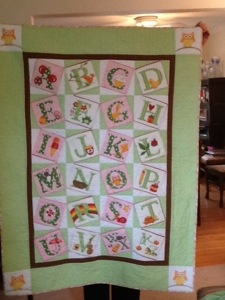 I helped make this quilt for my friend's great grand daughter. I supplied the fabric and the idea behind it and I think she liked it. It was a difficult time, my friend was Ill and wouldn't be able to see this new baby born. She ended up passing away 4 days after I brought the quilt back to her after quilting it. Very sad time!
Now I had bought lots of different fabrics for her to chose from. Too bad you can't just borrow the bolts and bring them back if it didn't work out. Now I have lots of owl and baby fabric in my stash.. I know it will all get used up in the end. There was lots of flannel purchased for backs of comfort quilts and just stuff (fabric) that I thought would be needed to finish quilts and stitching projects. Here are my numbers.
Fabric used this report: 21.09 yds
Fabric used YTD: 143.68 yds
Fabric added this report: 75.96 yds
Fabric added YTD: 208.99 yds
Net fabric busted: -65.31 yds
Everything I bought was on sale. I also bought a Light Pad for tracing out red work patterns. It's really nice and flat to work on especially for lefties like me. I checked the internet and the local quilt shop here had the best price at their sale! I couldn't imagine shipping one of them, I would be afraid it would break.
That's all for now. Maybe I'll have my s#%t together for next week so I can post again! See you soon.
5 Responses to "The Stash!"
Leave a Reply