Spring has sprung! Yipee! That means no more snow or does it? Well I certainly hope that's what it means. I noticed a lot of flowers coming up in the garden and I had better get out there to clean up a bit. Or should I just stay inside and quilt. I'd rather quilt but I can get my hubby out there if I tell him exactly what needs to be done. He's been pretty good at helping with the garden the last couple of years. And he really likes the way it all looks when the flowers are blooming and it's all peaceful and serene sitting outside in the gazebo. It's a great place to do binding or handwork. We even put up a light and fan. Enough of that, it's too cold to go out today and it looks like it rained or something yesterday.
 We went up to my sister's on Thursday and the drive up was great but that cold weather came uninvited. While we were driving home late last night, early this morning, it was snowing a bit and then it turned to rain. No precipitation in northen MI but it was a little colder than Thursday. Oh well, at least there wasn't a blizzard.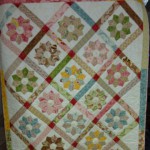 I just got this back from Maryanne at Canadian Machine Quilters. I just love this quilt and it's going in the keep pile for that someday/maybe  I'll have a daughter-in-law or a grand-daughter. Or maybe I'll just keep it for myself. This pattern is from Mum's The Word  and it uses a jelly-roll for the plates and yo-yos for the centers.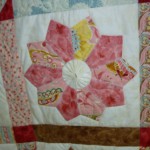 Maryanne quilted around each plate and yo-yo with a little quilting in the veins of the plates. She also quilting in the sashing which doesn't really show up and in the big triangles I asked her to quilt an outline of the plates. I wanted it to look like it was hand-quilted which I think it does. She asked if I wanted some stippling around the plated but I like it the way it is,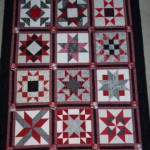 I also got this quilt back from Maryanne. It was a BOM from Rose Cottage Quilt Shop in Amherstburg ON and I think it's a few years old. But all I have to do is put some binding on it and it will be another finish for this year. I've been making the binding and labeling it as I make the quilt but I didn't do that with this quilt. Probablly because it just going to be black binding and I have a bolt of it.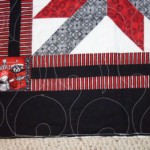 I don't know if you can see this but it's quilted in Steam. Maryanne thought it was a bit too big for this quilt but I didn't mind it. I like the way it looks in the black border and you can't really see it in the busy blocks. I love red, white and black quilts. This is the third one I've made and I hve more planned. I always wanted to make a baby quilt in these colours but it's parents have to want or like it too.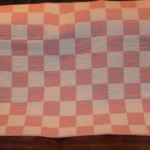 I also made this little baby quilt for someone my brother-in-law knows that had a little girl. He just asked me on Monday if I had any more baby quilts and he needed two so I had to get busy and make them. I've had this pink flannel for a while and it's been crying to be put in to a baby quilt. I like 2 colour quilts.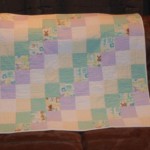 I made this one also. It's almost entirely from my stash except the backing. The pink and white one is all from my stash. These are quick and super easy baby quilts to make. They're all soft and cuddly and take no time at all to make. I had all the strips cut for this one so all I had to do was sew it up.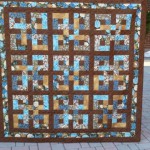 I also finished up this beauty and it's now gone to a good home. My neighbour wanted it for her daughter's 21st birthday. She was really surprised to receive this one. Her mom had her come over and look at a few quilts to see what she liked. It's interesting to see what the younger generation likes or doesn't like.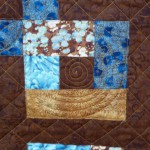 And because I liked it so much, in my travels this week, I bought some more of the fabric to make another one. I really like the way the brown and blue look together. Not my usual colours but sometimes you have to step outside your comfort zone and try something new.
 Now for the numbers of the week.
Fabric added this week: 11.69 yds
Fabric added YTD: 28.94 yds
Fabric used this week: 21.52 yds
Fabric used YTD: 86.79 yds
Net fabric busted: 57.85 yds
I've been trying to keep up on my quilts this week. I made the backings for 2 large quilts and sent them off to be quilted. I also made a comfort quilt that I just have to quilt myself. And with the 2 baby quilts, I used quite a bit of fabric. Now just to use the rest of it and clear out some of this stash. I might be getting a long-arm machine the first of the year and if I get it, I need to clear out a lot of stuff out of this room. My husband just wants to move and have a room big enough for all my stuff but I thought this would be a good reason to get rid of all the non-quilting stuff.
I hope everyone did a lot of quilting yesterday for National Quilting Day. I put the binding on 2 quilts so I got my fix in. Have a great week.
Mary-Kay
6 Responses to "Stash Report Week #12"
Leave a Reply