Okay I'm back, once again. Too many things are going on in my family and I don't get enough time to quilt. But I've been working on that yesterday and maybe later on today.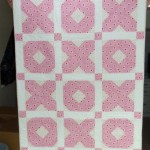 Here's the very pink baby quilt I made this week. The baby's room is in pink and brown and I was trying to see if I could make a quilt in those colours. I had the right pink but not the brown. I was thinking of going and getting some brown nut I managed to restrain myself. It helps when you want to make something right now and the store is closed, so you use what you make do with what's on hand. I forgot to take of picture of the blue and yellow one I finished the week before. And it's all from my stash! 
 Fabric added this week: 0 yds
 Fabric added YTD: 17.25 yds
Fabric used this week: 5.91 yds
Fabric used YTD: 65.27 yds
Net fabric busted: 48.02 yds
 I even made a top for a comfort quilt but haven't taken a picture of it. I'll wait until it's all quilted and bound. I would like to get it done this week while I'm on vacation but you never know what may come up. Family. I'm going to the quilt shop this afternoon to get the final BOM and the 2 monthly applique  blocks that I decided to join in on. Why? Like I need to do anymore stuff. but it gives me an excuse to go to the shop and see what's new and to drool over that fabric I want but am not buying. If I say it enough will it come true? I hope so!
  Have a great day and an even better week.
Mary-Kay
5 Responses to "Stash Report Week #11"
Leave a Reply