Well I started a few placemats for Meals On Wheels last Sunday. I looked through almost everything to find a pattern or an idea or some kind of inspiration. Finally in a flyer from Keepsake Quilting that came with a magazine I found a pattern that appealed to me. You use charm squares and cut out shapes like butterflies, leaves or hearts, I chose leaves and appliqued them down one side of the charm squares that were sewn into a 3×4 grid. I got that far and then it hit me. I was sooooo sick for 4 days that I didn't do anything but lay on the bed or visit the bathroom. I lost 9 pounds in the first day. It makes me really frustrated when I can't sew but I know that my health should come first. That doesn't mean that I'll be going to bed early instead of quilting on good days because then quilting comes first. I did the easy way of joining them so I don't have to put on any binding because that would take forever.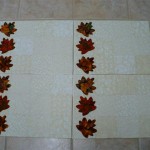 All I need to do is some quilting on them and they are good to go.
Oh by the way, that's a great idea Becky, I'll have to get some Scotchguarding and give it a shot. 
Well that's all for now.
Talk to you later.
 Mary-Kay
Leave a Reply