October 6th, 2008 - Cupcakes
The lqs Quilting Confections is celebrating National Cupcake Day October 17 2008.
You buy the background fabric and the pattern for $5.- and bring it back before October 10  and you get $5- off your purchases that day. Your block is then entered into a viewers' choice vote. Here is my block. I sewed over some batting for the top layer of icing and then embellished it with some seed beads. It didn't turn out exactly the way I wanted it to but it was fun experimenting . All the blocks are going to be put into a quilt for charity.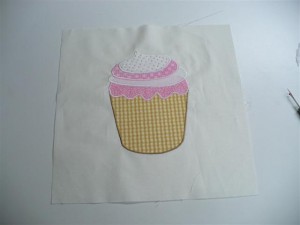 Well that's all for now.
Mary-Kay
Leave a Reply