Here are a couple of pics of some completed projects.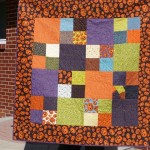 Here's a kit that I bought last year at Hearts to Holly in Charlevoix, MI. It's called 4 squared by Valerie Krueger, daughter of Sue who owns the shop. It uses charm squares and fat quarters. Sews up really quick and easy, just in time for fall.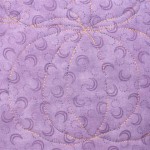 Here's a sample of the quilting that I did it. I used a quilting pattern from Mary Covey and Rainbow thread that is black and orange from Superior Threads. I think it came out pretty neat. I like the way the pumpkins look. I have another Halloween kit from the same shop that I am going to use the same quilting pattern on. Hopefully I'll have enough thread.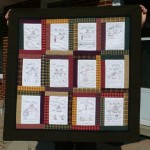 Here is the completed Snowmen Stitchery. I might add some more quilting to it but otherwise it's done. When I stitched the indiviual squares I stitched the black that goes around each square. I should have waited until it was in the quilt top form and then stiched it. But the black would show up on the light coloured backing so maybe it's okay after all.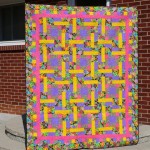 And last but not least here's the wild and crazy quilt that I gave to my cousin for her 60th birthday. She has always wanted a quilt.  I hope she enjoys it especially when she moves up north when her husband retires. Maybe I'll have to make her a few more.
That's all for now.
 Talk to you later.
M-K
Leave a Reply