I couldn't figure out why my last post wasn't "published". I guess I should hit the publish button rather than the save one. You'd think by now that I would have gotten that right. At least I didn't have to go and get Mackenzie to help me. Finally chalk one up for me!!!!!
 I can't seem to get into the sewing frame of mind. It has been well over a week since I have done any sewing of any kind. My sister seems to think it's the change in the weather. It seems to be getting dark a whole lot earlier and I seem to be more tired than usual. I have great plans but no ambition. But I did start something different.
                                        I decided t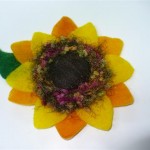 hat I had to do something creative so I tried a little needle felting. I started this at 10p.m. and was finished a hour later. I have never tried this before except for a demo at their booth and I even watched tv!  It's a sunflower pincushion that I picked up in the summer from a fiber show in Charlevoix, MI from Back to Back Fiber Products. When I was at the Novi Sewing show I stopped at their booth and the lady thought she remembered me from there. So I got another thing done. At least it didn't sit for a few years to age.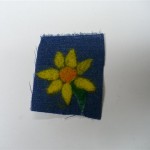 I wanted to try it out on a piece of denim. So I cut out some petals, a leaf and a center and started felting away. It's just a tiny bit harder to poke through than if you are just felting wool and it takes more pokes to secure it . I should have cut the piece of denim a little bigger and then I could have made something out of it. I hate to waste stuff. I think it looks okay. I really like the way the sunflower turned out and I was thinking of making some for Christmas gifts. I really like the way the fiber embellishment dresses it up. Oh the possibilities!
That's all for now.
Talk to you later.
M-K
Leave a Reply