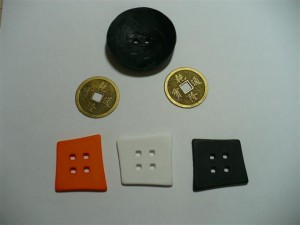 Yesterday I went to the Novi Sewing Show with a few friends. Here are a few of the goodies that I picked up.
 I bought some buttons for a couple of bags. The coloured ones are some kind of polyester resin made in Germany for a bag my niece made for another niece. She couldn't find any buttons that looked right so I said that I would look at the show.The  chinese coins I plan to use on a bag that I made. I want to have some kind of dangly things like beads or fibers coming from the center of the coin. I hope it turns out the way that I would like it to.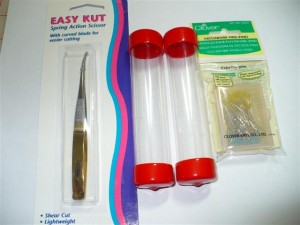 Next are a few notions that I thought were a must have. They are a lot cheaper in the States than in Canada, so I always try to get a few every time I go. You could get really carried away at this booth. There were lots of tools for all aspects of sewing.  And every kind of plastic storage container that any sewer would like to have to organize her sewing space.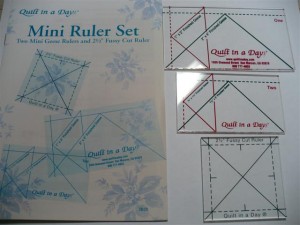 I found this mini ruler set at Country Stitches booth. I really like using the "Quilt in a Day" rulers for flying geese. It comes in 2 sizes and I thought that it would be so easy to make a border of flying geese using this method. I once made a quilt or should I say I am in the process of making a quilt using this method with the larger set of rulers and it is really easy and quick to get the blocks done.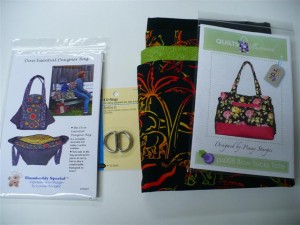 Oh, before we even got in to the show I saw this lady's purse and I just had to ask her if she made it. She told me she had and that she also taught a class the night before at an area quilt shop. I asked her the pattern name, Bow Tucks Tote, and I looked for it through the whole show. Only one vendor, Renee's House of Quilting, had it but only in a kit. I probably could have ordered it but I just had to have it now.  I like the colours of the kit so I bought it and I also bought another bag pattern although the picture on the pattern doesn't do it justice.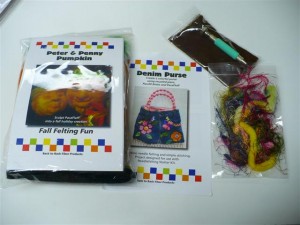 I found some needle felting supplies from Back to Back Fiber products. The sculpty pumpkin head was cool but the kit is missing a few things. stuffing, which is okay but the nylon that you use to make the head might be a problem. Who wears those things? I'll probably have to go buy a pair of panty hose to make this.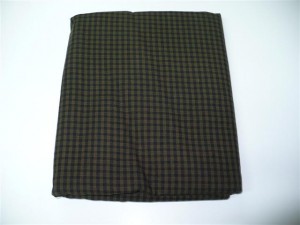 I found a piece of homespun for the border of the snowmen stichery. Not very many of the vendors had yardage of quilting material. Only one booth had homespuns and this was a prepackaged item in a 2 yard pkg. Most booths had fat quarters and 1 yard cuts. I think only 2 booths had bolts of quilting fabric and there were long lines at them.
  I also found this jacket pattern. I usually don't like the quilted jacket patterns because they are very boxy and with a shape like mine I would look like a square box. This jacket actually has a waist in it and I think it would look kind of funky in pieces of recycled jeans. I won't be putting the pockets on the chest because I don't want to draw attention to that area. But I think I could make this in a variety of different fabrics and then have a choice of jackets to wear that aren't the wind breaker type but a little dressier in the right fabric. The sample at the booth was made in a solid black with a dark asian print in muted colours on the front. Now to get busy and start sewing.
 I bought a new ironing board cover and pad for my board. I have an extra large board and it's hard to find the right size cover. The last one I made and it's not heavy enough and it's not going to last much longer.
  I probably won't go back to this show next year. For the amount of money you pay to get in,$12.- with the $5- fee for parking  and a day off work I didn't think it was worth it. There seemed to be way less vendors than the last few years that I have gone. There didn't seem to be any new fangled gadgets that one would just have to have. The only things that really interested me were the new quilting machines from "Innova" and a sewing machine table from"Arrow Cabinets" that i thought my niece could afford. Maybe the cost of gas and the slow economy inhibits vendors from far away to justify coming to this show. I hope things pick up in next year for all our sakes.
Well that's all for now. Talk to you all later.
M-K
Leave a Reply