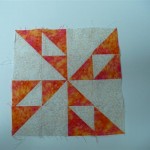 I managed to get some sewing done today. I finished the September block for the buck-a-block BOM and so far that's all I've done. I have the finishing kit for this quilt so that as I complete each block I can add the border to make a larger block.
Today it is supposed to rain all day. A good sewing kind of day. But then there is a knock on the door. It's the utility company, telling me not to go in the back yard due to a tree branch on the high wire. I had looked out the back door earlier to feel the weather and heard an arcing kind of noise. I looked around and didn't see anything and thought nothing of it. Apparently I missed something.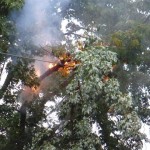 Here is the tree branch resting on the wire on fire. I went into the boys rooms and asked if they wanted to see the tree on fire. At first we stood at the back door and watched the branch burning and then we went into my bedroom and sat on the bed watching it. It was pretty interesting how these things catch on fire. First it smokes a lot and then burst into flames and then smokes some more. Bits and pieces of the tree were falling to the ground. Once the power was shut off the flames stopped and it just smoked. Or should I say steamed due to the rainy weather. Then the tree trimmers showed up and this guy shimmied up there like a monkey.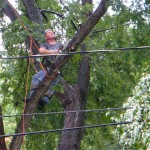 I couldn't believe how high up the tree he went.  He trimmed all the branches that were smoking and then trimmed any branch that could possibly touch the wire. When he was done we applauded. How's that for entertainment!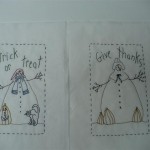 Now back to the quilting. Here are a few of the snowmen stitcheries. I have completed them all and will now make a quilt out of them. I don't know if I should make a wall hanging or a throw . Any suggestions?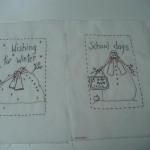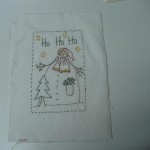 I like the December one the best. Maybe it's because snowmen are a wintery thing but they are all very cute. I can't wait to see it all finished. I never saw them in a quilt I just bought the patterns from "Hearts to Holly" in Charlevoix. Since then my sister taught the "Twisted Stitchers", a group of stitchers that meet monthly, this project. She did all the blocks but has yet to make a quilt out of them. I'll have to beat her to it. She is gone for the week on vacation so here's my chance to do it.
 Well if I want to sew I had better get to it. Don't want to waste this rainy day. But first I have to kill the centipede that just ran by. Does anyone know how to get rid of these gross insects. They are really creepy. On Thursday I killed a huge one up by the bedrooms. People tell me that they eat other bugs, so we must have a lot of other bugs because some of these babies are huge and gross. And then there are the really little ones. Just talking about them is giving me the creepy crawly feeling.
I'll talk to you all later and I'll show some pics of what I have been doing today.
M-K
Leave a Reply