I feel like I haven't done anything since I finished "On Ringo Lake". I think because that quilt was really intense, meaning large, nothing can compare to it. Anyway, upon looking back, I did make 48 blocks, sailboats and chain blocks, as a block exchange for an upcoming retreat. And then I decluttered my cutting table. I must remember to do that every time I finish a quilt. Right!
I did purchase some fabric for the retreat blocks as I do not have any white on white fabric. I can't believe it but I used most of it in On Ringo Lake.   And this is what my numbers look like this week.
Fabric used this week: 2.64 yards
Fabric used YTD: 24.51 yards
Fabric added this week: 6.5 yards
Fabric added YTD: 43.14 yards
Net fabric busted: -18.63 yards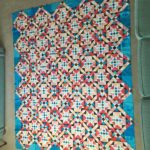 Here's my On Ringo Lake quilt top. The setting triangles need trimming but that can be done when I decide to quilt it. I need to figure out a backing. I have a piece of fabric, 5 yards and I need 5.5 yards so I will need to do some piecing.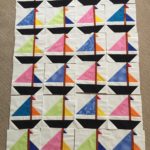 And here's my regatta. I also made 24 chain blocks but never thought to take a picture of them. These were supposed to be batiks but the person running this retreat said as long as they were brights, she was fine with that. What I made out of batiks was the boats and the masts.
On the 15 Minutes to Sew challenge, I've done pretty good this week. I managed to sew 31 hours. Sometimes I can't believe how much I sew.
I'm linking up with Kate at Life In Pieces for the 15 Minutes to Sew  and Donna at QuiltPaintCreate for the stash report.
Have a great week!
6 Responses to "This Week in My Sewing Room"
Leave a Reply