Well, I haven't been around for the last few reports but I've been busy. And I did buy some fabric.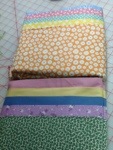 Ten yards in total. I don't have any reproduction fabric and I needed some to go with these.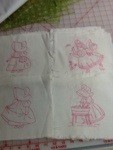 My neighbour found these and where ever it was, they were supposed to go in the garbage. She rescued them and thought I might be able to do something with them. So I'm going to try and make some blocks from that fabric to go with these. There's 12 blocks and only 1 has a noticeable stain on it and it's probably going to stay there because I've tried almost everything to get rid of it. Grandma's stain remover is next.
There are some other blocks in purple, green and gold that need a real cleaning. One looks like blood. So when I have the time, I'll get them all cleaned up, I hope, and show them to you.
Now for some numbers.
Fabric used this week: 7.3 yds
Fabric used YTD: 95.75 yds
Fabric added this week: 10 yds
Fabric added YTD: 91.17 yds
Net fabric busted: 4.58 yds
I'm still in the black. I have 5 more weeks of recuperation from a little surgery and one of the only things I can do is sew. Sew on that note, I'm going to do just that. Have a great week!
Leave a Reply