February 17th, 2013 - The Stash
I'm finally back in to the positive numbers. Last night, as I was looking for a border piece, I found quite a few piles of fabrics. It reminded me of all the quilts I want to make. It was really hard to make myself finish the one I'm currently working on and not grab some of the newly found fabric and start cutting it out. Time to get serious about all this fabric. Here's a peek at a couple of finishes.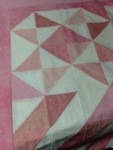 I don't want to show the whole quilt as it's supposed to be a mystery quilt for a retreat I'm going to at the end of the month.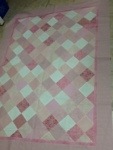 and this is the leftovers from that quilt.
Fabric used this week: 5.75 yds
Fabric used YTD: 38 yds
Fabric added this week: 0 yds
Fabric added YTD: 37.17 yds
Net fabric busted: 0.83 yds
I'm off to quilt. Have a great day! Lori, I know how much you love pink so I made them with you in mind.
One Response to "The Stash"
Lori in South Dakota Says:
March 5th, 2013 at 4:27 am

I had read this before–and still laugh. So you think of me when you sew with pink? Well, that's not a bad thing!
Leave a Reply