I really should change the name of my blog to Fabric Junkie. All I seem to do is buy fabric. Who has time to sew? Or should I say who has time to sew using their own fabric?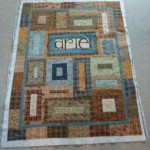 I worked on this baby quilt for my niece's friend all week. It's almost done. It needs a little more quilting and the binding, then it's out of here. I quilted it on my new machine and I think there's a learning curve here. It isn't as great as I thought it would be but it's okay. That BSR thing is a little different than regular free-motion quilting. It takes some getting used to. Practice, practice, practice!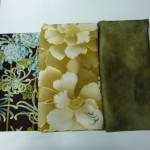 And here's some fabric I picked up this week. Why? I don't even like Asian prints but I just love these ones. The shop owner made up a  quilt pattern using these fabrics and it's just beautiful. The gold flowers make the outside border. This needs another brown print that I have in my stash and maybe this week I'll get it sewn up and ready to quilt. Yeah right!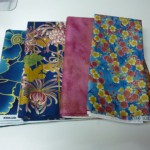 And because I had some other prints in my stash that will work, I bought this colourway too. The big blue flowers on the left is from my stash. I don't even remember buying it but it was there. It's even washed, all ready to go. I'm only have enough for a twin. It's a really easy pattern and maybe I can get 2 done in one week.
 Now for some numbers.
Fabric used this week: 0 yds
Fabric used YTD: 141.66 yds
Fabric added this week: 13.21 yds
Fabric added YTD: 165.86 yds
Net fabric busted: -24.2 yds
 So I'm not getting any closer to my goal this year but I'm going to keep on trying. At least the fabric I've bought is for a planned quilt not just for the stash. There's some thinking involved here, not much though.
5 Responses to "Stash Report Week #38"
Leave a Reply